More than just a new way to get kids to fall in love with their vegetables, the Power of Produce introduces children to fruit, vegetables, and the farmers who grow them while developing financial literacy skills (and perhaps a bit of patience).
Now in its third year at the farmers market, the program has proved wildly popular among parents and children alike. "I am so very grateful for the opportunity for the children to try new things," says one PoP parent. "My daughter has started a garden from plants purchased with tokens. "One elementary school student began growing his own tomatoes and giving them away to all of his friends, a clear source of pride.
How it works
The free club is open to children ages 5 to 12 . Once they've enrolled, they're given a badge and a small shopping bag and each week when they register, they receive two dollars of market tokens that they can spend on fruit or vegetables or a plant that grows food. 
Although the original purpose of the club was to empower kids to make healthy food choices, the benefits have proven to be much greater.  Children who participate become much more involved in the market because now it's their shopping experience as well. They get to interact with farmers directly and sample fruit and vegetables they may have never tried before.  
Along the way they learn valuable lessons about financial literacy. Some save up their market tokens for weeks in order to buy one special plant while others can't wait to spend theirs every week. 
We are currently accepting sponsors for the program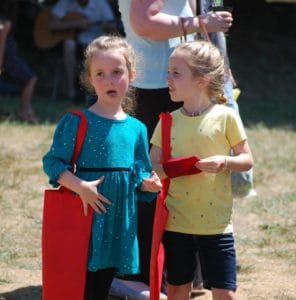 Sponsoring this program is a great way to market your business to a weekly audience that cares about issues of health, sustainability, and community while making an investment in the future. We offer a range of sponsorship opportunities. To learn more, visit our sponsorship page. 
This program is run entirely through donations and sponsorship money, so every contribution matters. For just $10 a month you can provide an entire season's worth of tokens for a child. Donate now!