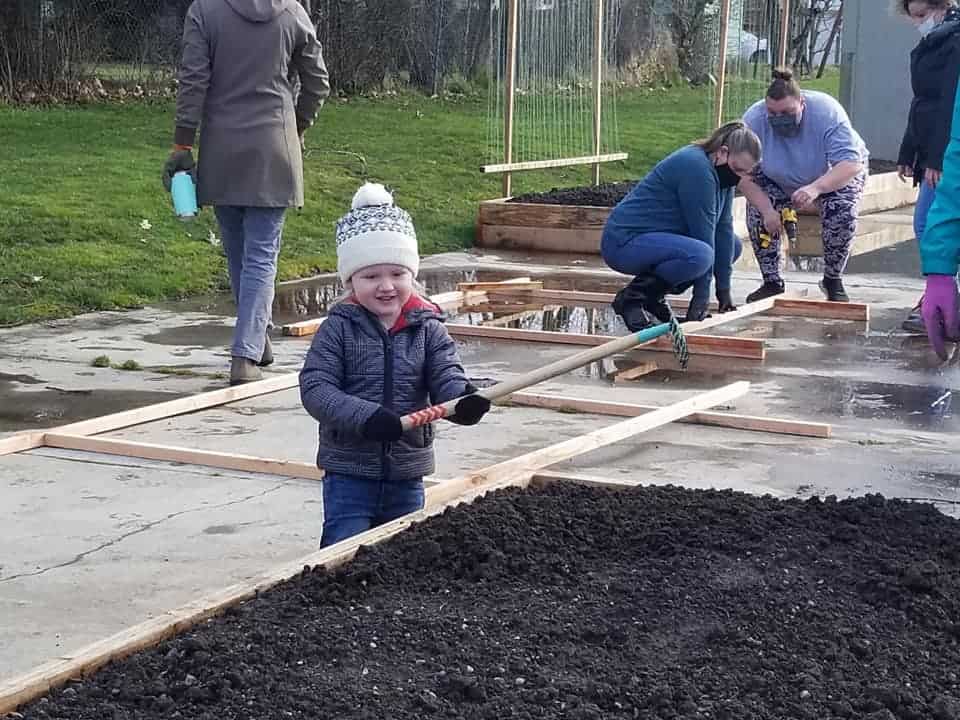 In 2021, Bounty for Families installed a community garden in Yelm City Park in collaboration with the City of Yelm, Thurston Conservation District, GRuB, the Nisqually Indian Tribe and Yelm Community Schools. Throughout the Yelm Farmers Market season, our Community Garden Manager has been on hand during market days to answer questions, share knowledge and direct people to produce that is ready for harvest.
How the Garden Serves the Community
The garden serves as a free resource for both food education and healthy organic produce. Anyone can stroll through and pick up some vegetables to take home for dinner or for the week. Our only request is that people leave enough for others and pay attention to which produce is ready to be harvested and what is still in the process of ripening. Our Community Garden Manager brings whatever is left over to one of two local food distribution programs each week. We also offer free classes on gardening and cooking with organic produce in collaboration with Thurston Conservation District and GRuB.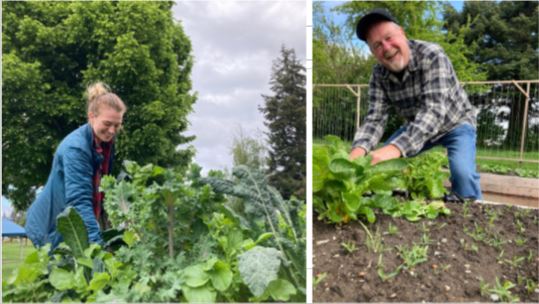 Background
From the beginning, one of the goals of Bounty for Families has been to develop a strong community garden program to support  Yelm residents in having access to nutritious food and education about starting their own gardens, whether they live on a five-acre parcel or an apartment in town. In 2019 we collaborated on a grant proposal from the Thurston Conservation District for $50,000 in funding for urban agriculture in Yelm through the National Association of Conservation Districts.
On the Martin Luther King Day holiday weekend in 2021, construction began on the first beds. Our community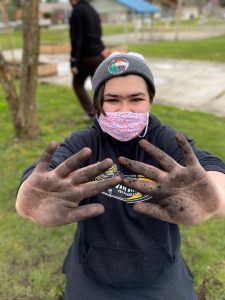 partners from GRuB led volunteers from The Mission Continues, a nationwide military veterans group whose members do service projects within the communities where they live, in building the first set of raised beds. More works parties followed, with support from  Rogue Permaculture & Resilient Veterans (another military veteran group focused on permaculture), the MOMS Club of Yelm and volunteers from the community. We have conducted several gardening and cooking workshops
Funding and Support
The City of Yelm has been an essential partner in this project, allowing us to use the Yelm City Park space at no charge and providing irrigation and lighting. The Nisqually Indian Tribe awarded $12,000 in grant funding for general garden support and to create an elder-friendly and ADA-accessible walkway to the garden. Gordon's Garden Center donated all of the seeds and starts to get things moving once the beds had been established.
If you are interested in volunteering, making an in-kind donation or sponsoring the program, please contact us.