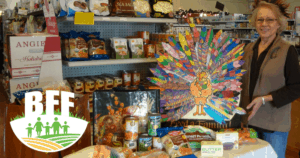 November is here and that means it's Gobble time! Bounty for Families is hosting the 10th annual Gift of Gobble, a program that feed 100 local families from every segment of our community, including military, schools, churches and individuals. Just $60 feeds a family of six with an entire Thanksgiving feast they can prepare in the privacy of their own home.
You can make a difference this holiday season by:
Donating. Any amount makes a difference and all donations are tax deductible. Yes, I want to donate! 
Volunteering. We gladly accept support in the form of packing and distribution on the Monday before Thanksgiving as well as help with fundraising. Contact Heidi Smith at 360.464.8706 to learn more.
Nominating a family. Nomination forms are available at the Yelm Food Cooperative and will soon be available online as well.
Thank you!