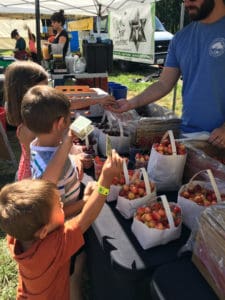 Opening Day is right around the corner and the 2019 Yelm Farmers Market is shaping up to be the biggest yet. Over 30 vendors will be on hand on May 25th when the season kicks off at the Yelm Community Center.
"It's looking like it's going to be the best season we've ever had," says Manager Jon Jamieson. "We'll have more vendors, more kids activities and  great opportunities for the community to come together to enjoy locally-made products in our freshly renovated Yelm City Park."
Kids activities will be a focus this year thanks to newly hired Power of Produce Manager Kayla Blanch. Participants in the free program for ages 5-12  get $2 in market tokens each week they attend to spend on fruit, vegetables, or a plant that grows food. "I'm excited to get kids involved in making healthy choices and supporting their local community," says Blanch.
Another new development: collaborations with local non-profits and community groups. In exchange for free booth space at one or more of our markets, groups will bring fun activities for kids and have an opportunity to highlight their organizations. Thus far, those include: Binky Bunny Tales Rescue, Yelm Habitat for Humanity, the Port of Olympia, Puget Sound Energy, South Sound Seed Stewards, the Nisqually River Council, Standing Room Only, and GRuB.
"We're happy to provide a chance for these groups to get the word out and they help us by bringing activities that engage kids," says Heidi Smith, a board member of Bounty for Families, the non-profit organization that oversees the market.
Both new and returning vendors will offer fresh produce, artisan crafts, hot food and more. This season Yelm's popular Masonry Cafe will be serving up hot meals in the kitchen and on opening day Steele Barrel Barbecue and The Cattleman restaurant will also have lunches for sale.
A new Splash Park in the City Park will be an added attractions for families, Jamieson notes. "We're looking forward to it."
See you at the market!