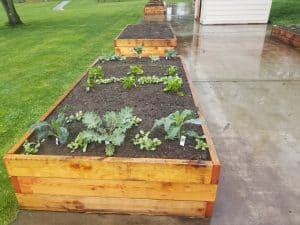 For the first time in recent memory, vegetables are growing in Yelm City Park. Every day, new shoots are emerging at the community garden, a collaborative project among nonprofits Bounty for Families, Thurston Conservation District and GRuB along with the City of Yelm, the Nisqually Tribe and Career and Technical Education students at Yelm High School. Now a new partner has joined the mix. Since March, landmark local business Gordon's Garden Center has been donating seeds and starts to literally bring the project to life.
"If someone is in the garden and they love a specific plant, they may want to know how to grow it at home," says Nora White, Education and Outreach Specialist for Thurston Conservation District. "The fact that these plants come from a local retailer means that not only can they get some instruction on how to grow it, they can walk two blocks and go buy the same plant at Gordon's. This in-kind donation signals to the rest of the community and to the other partners that Gordon's is invested, interested and supportive of the project."
Gordon's owner Kellie Petersen says the community garden is in alignment with the mission and values of her business. "We try to help people understand that growing their own food is more economical, more nutritious and certainly more flavorful than buying from a grocery store," she explains. "Our aim is to help with the 'what' and 'how' of growing, according to the family's needs and desires. In a community garden, people can see the ease with which they, too can grow a garden."
Over the past two months, multiple work parties have put the seeds and starts in the ground. As of this writing, peas, spinach, beets, carrots, arugula, celery, lettuce, kale, and swiss chard are visible with potatoes soon to follow. As the weather warms up, volunteers will add tomatoes, zucchini, squash and peppers.
Petersen hopes the community garden will inspire people to grow their own food at home. "There are so many benefits," she points out. "Many people buy more than they need at the grocery store and throw away what is not used before it perishes. With a garden, because they will only pick what they cook that day, there is no waste."
To learn more about what seeds and starts are available, visit the Gordon's Garden Center website or call 360.458.2481.