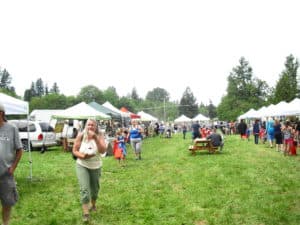 The Yelm Farmers Market will end its 2017 season Aug 27th.
We have had some great vendors this year who stayed true to the market even though it was smaller this year. We look forward to building 2018 with them and making next year a "reboot" year for the market. Some of those wonderful vendors are Mari's Farm, Root Cellar Farm, Fardell Farms, Bee Forever, Reed's Sweet Wine, Rawk Star Creations and  Yummy Local Foods. Thanks so much!
We have also had awesome sponsors like OBEE Credit Union, Olympia Federal Savings, Yelm Family Medicine, Crowe Law, Timberland Bank and Blue Waters Acupuncture Center. Thank you so much!
We are excited that the city administration of Yelm has been so motivated to get us to move back to the city next year. They have adopted all the code change recommendations we submitted to them and now locations are being reviewed to determine if the move from the farm is the right one to make.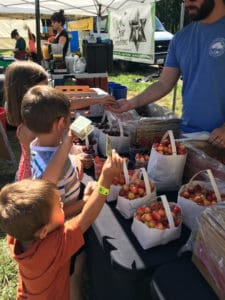 Power of Produce Kids Club was a success again this year with over 400 members! In this program, each child, aged 5-12, gets 2 $1 tokens each week to spend on fruit, veggies or plant starts. Cashing these tokens in gives the kids a chance to learn from the vendors about the products they are buying. This educational aspect to the market is a really important on for us!
Keep checking in with us for details about the Yelm Farmers Market for next year!