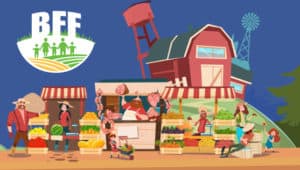 2017 will be an exciting year for the Yelm Cooperative!
Earlier this year we got a notification from the IRS that we needed to separate the Yelm Food Co-op retail store from the Yelm Cooperative, which serves as the umbrella organization for both the store and the Farmers Market (yes, we know the names are very similar). While the Yelm Cooperative is a federally recognized non-profit, the store clearly does not fall under that category. As a result, we are splitting the non-profit umbrella organization away from the store, which will now be its own separate entity. The non-profit will focus on what we do best, where our passion lies, and where we feel we can have the greatest impact in the community. As of January 1, 2017, the former Yelm Cooperative will be called: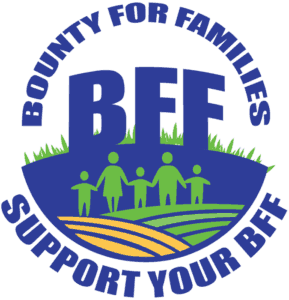 Why Bounty for Families? Simple. When we think of signature programs that involve our non-profit arm, all of them involve food and families. For the past seven years, we've fed over a hundred local families each year through the Gift of Gobble program, providing full Thanksgiving meals to those in need.
We have raised a total of $32,896.00 for this project and spent nearly $33,775.00 feeding local families.
Through the Yelm Farmers Market, we have also developed the Power of Produce which empowers children to make healthy food choices and learn about where their food comes from each week.
Within the last year, this program impacted nearly 600 young people aged 5-12 and gave them a new perspective on the food they eat. The challenge? This program is fully funded by the Yelm Farmers Market and the Yelm Cooperative to the tune of almost $6,000.00.
For us to continue this popular and effective program, we will need either a corporate sponsor or many individual donors so that we can raise the approximately $5,000.00 we need for the 2017 Yelm Farmers Market season.
In addition, south Thurston County has a large percentage of families that struggle with hunger from one day to the next. There are hundreds of kids in the area that are on the Homeless Backpacks program and special school lunch programs.
Clearly, Bounty to the Families can fill a compelling need in our area and that will be the focus of our work from 2017 forward.
These expanded outreach efforts will take a village. We'll need committee members for membership, fundraising, outreach, marketing, finance and more, and there will be opportunities to join the Board of Directors as well.
To get involved, contact us at info@bountyforfamilies.com
We look forward to moving into the future together!
Tom Dewell
President, Board of Directors
Bounty for Families (formerly Yelm Cooperative)