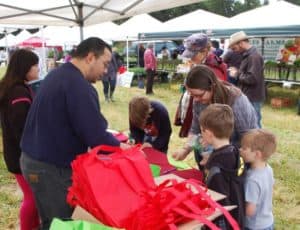 New development: the Yelm Farmers Market will remain open until at least the end of September and NOT close the end of August as earlier reported.
The vendors themselves will be coordinating the operation for the remainder of the season.
We expect all the vendors to return so come out and get your favorite goodies – lots of produce will be featured at the farmer stands, and all the other great products you've come to expect will be there, too!
Come support your local farmers market and the vendors – they rock!
Watch this space for developments for 2018's market.
Tags: yelm farmers market