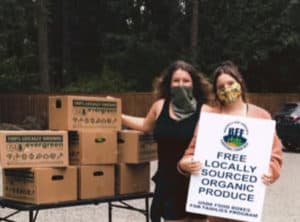 On September 16th, Bounty for Families wrapped up its weekly distribution of locally-sourced organic produce in Yelm and Rainier through the Farmers to Families Food Boxes program. Over a ten-week period, BFF volunteers handed out 3,680 boxes to families, individuals, and groups like senior centers, rehabilitation facilities, domestic violence shelters and several churches.
"We started with just 160 boxes per week, but demand kept increasing," says BFF Board Secretary Heidi Smith. "Every time we asked Hugh for more produce, he made it happen." Hugh Jones is the founder and President of Evergreen United Food Hub, a Shelton-based organization that gathered the produce from local organic farmers, packaged it, and then delivered it to nonprofits like Bounty for Families throughout the Puget Sound region so it could be distributed to help those struggling with the economic impacts of COVID-19.
In normal years, Evergreen United serves Seattle and Tacoma area restaurants but in 2020, those markets were no longer viable. Jones, with help from the Thurston Economic Development Council's Procurement Technical Assistance Center (PTAC) won a contract with the U.S.  Department of Agriculture Farmers to Families Food Boxes program, which enabled him to pay farmers and connect with local nonprofits.
When the opportunity arose, BFF had just five days to put a plan together because another nonprofit had canceled their order. Smith contacted Sandi Hanson, coordinator of the Rotary Club of Yelm's 10 Weeks of Summer program which was already distributing free boxes and bags of food each week for families of students who are enrolled in the free and reduced lunch program through Yelm Community Schools. "The fact that Yelm Rotary said yes made this possible," says Smith. "To organize the logistics for this program without their support would have been really challenging at such short notice.
The next step was recruiting volunteers, a process Smith found to be surprisingly simple. "People were eager to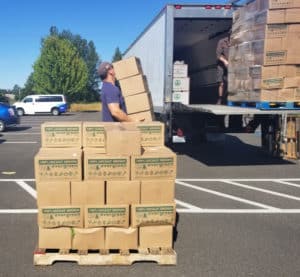 help," she says. "The feedback I got was that this was a welcome interruption to being stuck at home for so long with little outside interaction. We had a real range in ages, including teenagers and several children who came along with their parents."
Following the Rotary Club of Yelm's model, volunteers distributed at four locations: the Clearwood Community Association's main gate, Nisqually Pines administrative office, Rainier School District's administrative office, and Yelm City Park.  As word spread, more people continued to show up looking for fresh greens. "We had people tell us about the smoothies they were making with the beets and how much their grandchildren were enjoying the produce," says Smith. "It was great to hear the stories of what people were doing with it each week."
The program is finished for this year but the connections it created will continue, according to Smith. "We've had all kinds of community groups and individuals contact us about working together," she says. "There's a lot of focus on collaboration and making sure everyone is taken care of, and those conversations will go on."