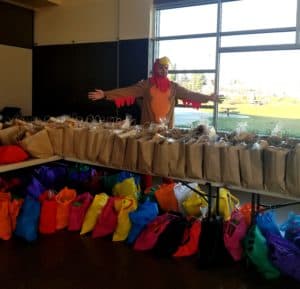 It's been quite a year and demand for annual Gift of Gobble Thanksgiving meals is higher than ever.  Therefore, this year we are adding 50 more meals than usual and need to raise a total of $9,000.  If you're able to contribute and would like to make a difference, $60 feeds a family of six with a Thanksgiving turkey, potatoes, carrots, stuffing, pumpkin pie mix and all the trimmings to take home and prepare their own feasts.
As always, meals go to military families at JBLM, Rainier Community Schools, nine local churches and this year, 20 will go to families from Yelm Community Schools. Thank you for your support!
Click on the link below to donate now.