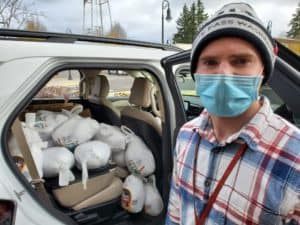 Another year, another successful Gift of Gobble event. On Monday, November 23rd Bounty for Families volunteers gathered to package and distribute 150 Thanksgiving meals to families from Yelm Community Schools, JBLM, Rainier Community Schools, and nine local churches.
Thanks to many local businesses who supported us in breaking all fundraising records this year, including: First Finishers, the Crowe Law Office, Blue Waters Acupuncture Center, Re/MAX, Windermere, the Klein Family Foundation,  Yelm Family Medicine, JZK Inc., The Showroom, C&E Developments, 507 Taproom & Filling Station, Pizzeria La Gitana, which donated pizzas to our hard-working crew and the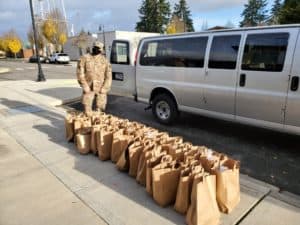 Yelm Food Co-op which handles all the logistics on food ordering.
Many individuals also donated to make this the biggest year yet. We appreciate you!