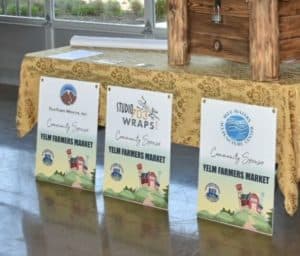 A big thank you to our Farmers Market sponsors thus far: Yelm Family Medicine, Yelm Farm & Pet, Blue Waters Acupuncture Center,  Studio 703 Wraps and Crowe Law Office. The City of Yelm has also been incredibly supportive of both the market and our new Community Gardens project which will be getting off the ground (or into the ground) later this year.
We're excited to begin this market season on Saturday, May 26th at our new home in the Yelm Community Center. Some of our booths will be indoors and others will be in the surrounding area at the Yelm City Park. Now that we're in the heart of town, we're anticipating a lot of traffic not only from our loyal repeat customers but from those who have recently moved here as well as local residents who will now have greater access to the market.
Sponsorship opportunities are still available from the $250 level all the way to the $5,000 Market Sponsor level. Contact us to learn more about how we can help you get your brand in front of hundreds of market shoppers every weekend for 23 weeks – all in association with fresh, local, organic produce and other unique products and crafts.
Contact Jon Jamison at manager@yelmfarmersmarket.com .