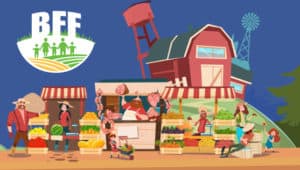 Calling all Yelm Farmers Market Vendors!
We are considering changing the meeting scheduled for Sunday, Nov 12th to a Thursday evening later in the month.
This meeting is an important one since we want to set up the YFM Committee so work can begin for 2018.
This message is also posted on the Yelm Farmers Market Facebook page – please reply there if a Thursday evening is good for you. You will also be receiving an email today and you can reply to that as well.
Hope to see as many of you as possible this month!
Tom Dewell
Board Chair
Bounty for Families