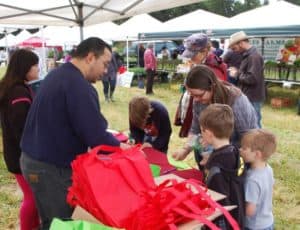 This year again, the Bounty for Families Power of Produce Club, held at the Yelm Farmers Market, was a great success.
443 kids were enrolled this year, just down from 485 last year, to make the grand total since the program began in 2015 1,587 kids! And they come back over and over again during the season so that our total so far is 4,059 visits. That's over 4,000 times that young people, aged 5-12, were at the market interacting with local farmers and growers, learning about food and healthy choices and taking home veggie starts for their own home gardens. What an education these kids get!
There is, however, one challenge with this program: it has to be fully sponsored or receive grant money or donations since the $2's worth of tokens given to the vendors must be reimbursed by the market. This year, unfortunately, we had to stop the program mid-August since the funds we had ran out.
So for this program to continue educating our young people, some of your sons and daughters, we need your support. In 2018 we will make it very easy to help. Our website has a way for you to donate either one time or on a recurring basis. It's so easy to set up a monthly contribution of $10 or $25 to this really outstanding program by going to http://bountyforfamilies.org/our-programs/power-of-produce-kids-club/ and clicking the "support your BFF' button on the right hand side. Rather use your mobile device? Just text BFF at 91999.
Your donation can make a huge difference – support the Power of Produce Kids Club at the Yelm Farmers Market in 2018.
Thanks!